March 26, 2021
Demand tracking tips for Hotels during COVID-19
There has been a lot of uncertainty in the travel industry during the COVID-19 crisis. We have endured international border closures, state border closures and lock downs.
Some hotels have remained open, others have/are closed for a period of time, and some hotels are health/MIQ/air crew hotels.
In Australia and New Zealand, the virus is now largely contained, with national travel in both countries borderless.
So, how can you position and prepare your hotel for the current crisis cycle and for what's to come? How do you track demand and know when to pull the trigger on marketing?
Information and insights
Most of your hotels' online marketing campaigns were paused during the Coronavirus crisis, which is fair enough, you needed to save as much cost as possible. But when is the right time to start investing in online marketing again? You don't want to start too early, and certainly, you don't want to start too late.
Check consumer trends via Google Trends
What is Google Trends?
Google Trends is a search trends tool that shows how frequently a given search term is entered into Google's search engine over a given period of time.
Google Trends provides search volume and geographical information about search engine users.
Is there demand?
Use Google Trends to determine if there is a demand for the type of property you are offering. Use search terms such as "accommodation Sydney" or "hotel Brisbane" to investigate. Here are some examples;
"accommodation" searches, in Australia, from 01 January 2020 to 25 March 2021.

It is clear to see in this example the effect of lock down and border closures in Australia from March to June 2020, and again, from July to September 2020. Domestically, "accommodation" searches have now rebounded to be greater than pre-pandemic levels.
"accommodation Sydney", "accommodation Brisbane", "accommodation Melbourne" searches, in Australia, from 01 January 2020 to 25 March 2021.

Here, we can see the effect of state lock downs and state border closures from 01 January 2020 onwards for Sydney, Brisbane and Melbourne.
How to use Google Trends
You can explore Google Trends by visiting the tool here: https://trends.google.com/
See what searches are currently trending, then dig into a topic for more information. For example, Google Trends recently shared information on trending searches related to International Women's Day 2021, such as top relevant search terms and top "how to" search queries;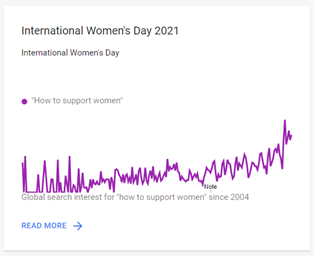 You can also enter a search term into the search box at the top of the tool to see how search volume has varied for that term over time and in different locations:

Remember, you can change the location, time frame, category or industry, and type of search (web, news, shopping, or YouTube) for more fine-grained data.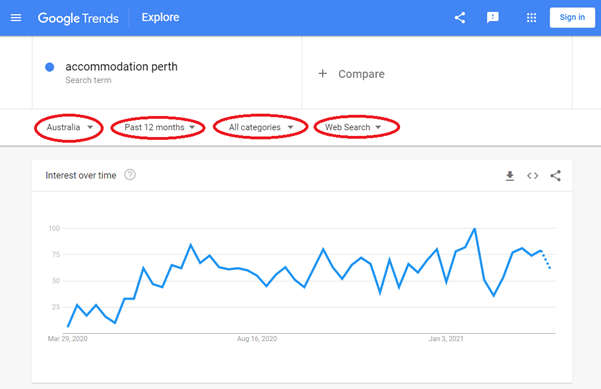 Google search trends data can be very useful for DOSM's. For example, if your hotel is very seasonal (such as Cairns or Kakadu), you'll want to ramp up your marketing efforts when search terms relevant to your property and region are trending – perhaps even sooner if you are wanting to squash your competitors with SEO for Hotels!
To compare multiple terms, use the "+ Add comparison" feature.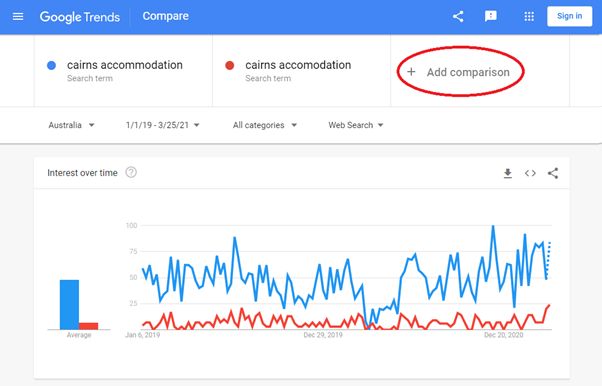 In this graph, we can see that a relatively high number of people do not know how to spell accommodation. "cairns accommodation", surprisingly, has quite a strong number of people searching, versus "cairns accommodation".
Use the data
On an ongoing basis, you can use the data found in Google Trends for several different marketing purposes:
In SEO for Hotels and content marketing, use Google Trends to learn what people in your target market are searching for information about. Writing about trending topics can help drive traffic to your site and rank you stronger for those keywords.
To inspire your ad creative, browse Google Trends to see what topics are currently capturing the public imagination. Referencing a trending topic (like a hot new kind of music or dance) in your marketing campaigns, whether it's an email blast or a Facebook ad, can increase your ads' engagement.
Is demand back for your property?
Back to All News & Tips