March 26, 2021
Gift Voucher Sales Soar With COVID
The shift towards digital offerings has picked up pace, with digital and e-voucher sales growing on a calendar year basis.
Accor gift voucher sales increased by 88%
December 2020 v December 2019*
Echoing the trends witnessed across consumer industries more broadly, COVID resulted in an added focus on digital channels and offerings across the gift voucher sector in 2020.
With nationwide lockdowns, restrictions and more, 2020 was an incredibly difficult year in the tourism and hospitality industry.
We analysed several Accor properties gift voucher sales for the calendar year of 2020, and compared the data to total sales for the calendar year 2019, with surprising results;
Fairmont Resort & Spa Blue Mountains MGallery by Sofitel
+26.78%
Pullman Palm Cove Sea Temple Resort & Spa
+51.02%
We note that these percentages are total gift voucher sales and include offline or onsite gift vouchers, meaning, the increase in digital and e-voucher sales is not as a result of people shifting to digital vouchers over physical gift cards or paper.
Who's buying?
With international boarders closed, and state boarders closed for the majority of 2020, who's buying?
The giftee is largely in Australia (predominately the state in which the property is located).
The giftor has been global.
Why are they buying?
There are many reasons and occasions, such as birthday gifts, anniversaries, Mother's Day and more.
Being a reputable, well-known brand also adds security and assurance that the property will still be open when it comes time to claiming the voucher.
Key takeaway
Despite the global pandemic, gift vouchers for Accor properties are in demand now more than ever.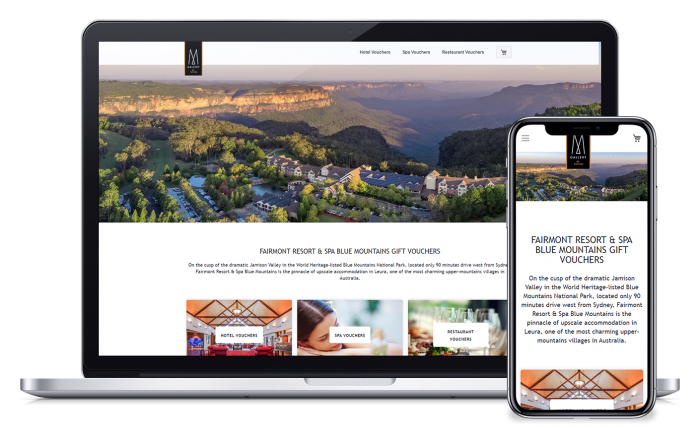 Benefits of digital/e-vouchers
Easy way to receive money now for goods and services to be used at a later date.
60% of all Accor gift vouchers are never actually claimed (current case with all properties overall).
Website is Mobile First, developed on Magento and is an owned asset of the property.
Online has a greater uptake and conversion, and has a 24/7 shop front, versus having to phone or email. Credit card details over email also raises security concerns.
Online eliminates internal staff time, postage, and handling.
*Combined Accor gift voucher sales (all sales) for Accor gift voucher websites developed by OmniHyper® only.
Back to All News & Tips