March 26, 2021
Tips to Grow Bookings with Google Hotels
What is Google Hotels?
Launched in 2011, Google Hotels is a search engine specifically for hotels. It is part of the main Google search engine and allows customers to search for and book hotels.
Google Hotels offers you the chance to increase your visibility and attract more bookings.
Other features for users include a room rate comparison tool and a review platform, allowing potential customers to compare feedback and prices of different hotels (even prices on different platforms that are selling the same hotel rooms).
How does Google Hotels work?
Google Hotels presents users with information about all the hotels that Google is aware of. For Accor, this is because of the professional relationship between Accor and Google (all.accor.com).
What does it look like?
Here is a video showing you an example of a user looking to book a hotel in Sydney;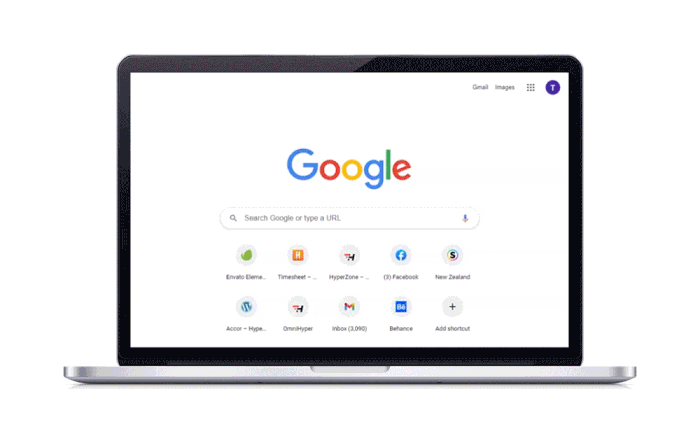 Information presented includes an overview with a description of the hotel, user ratings out of 5 stars, reviews, location overview, photos and price information. Price information is not only from your own property, but OTA's as well, so price parity and offers are very important.
Google Hotels also allows users to book rooms directly through the platform, which means potential hotel customers do not ever need to leave Google. This results in a greatly streamlined booking process. For Accor and your hotels official site/pricing, bookings are driven through all.accor.com.
Advantages of Google Hotels for Accor properties
Capture people searching for a hotel in your area
The majority of people searching in Google use non-branded keywords such as "hotel in Sydney", rather than branded keywords such as "Sofitel in Sydney".
One of the big advantages of Google Hotels is the ability to attract and convert customers who are specifically seeking hotels in your area.
Increase direct bookings
Google Hotels gives you the ability to further compete with OTA's for visibility in Google search results, while also linking customers directly to your hotel's booking engine (via all.accor.com).
As we know, there are many advantages of direct bookings, a significant one is that it allows your hotel to retain more of the money customers spend on the booking.
Access to important customer information
Where bookings are made directly via all.accor.com, you gain access to the valuable customer information, including contact details and demographic data. When bookings are made through other third parties, they often gain ownership of the customer information instead.
This information is valuable for pre-arrival customer service, and this customer information can also be a part of a wider data collection strategy, so that the data can be used to inform future business and marketing decisions.
Ownership of the customer journey
Owning the customer journey is important for a number of reasons, but one of the most significant relates to pre-arrival communication. If you have ownership of the journey, you can more easily communicate your policies with those who book and identify opportunities for up-selling and cross-selling, which is vital for optimising revenue.
What are the costs?
There are two types of listings in Google Hotels – paid and free;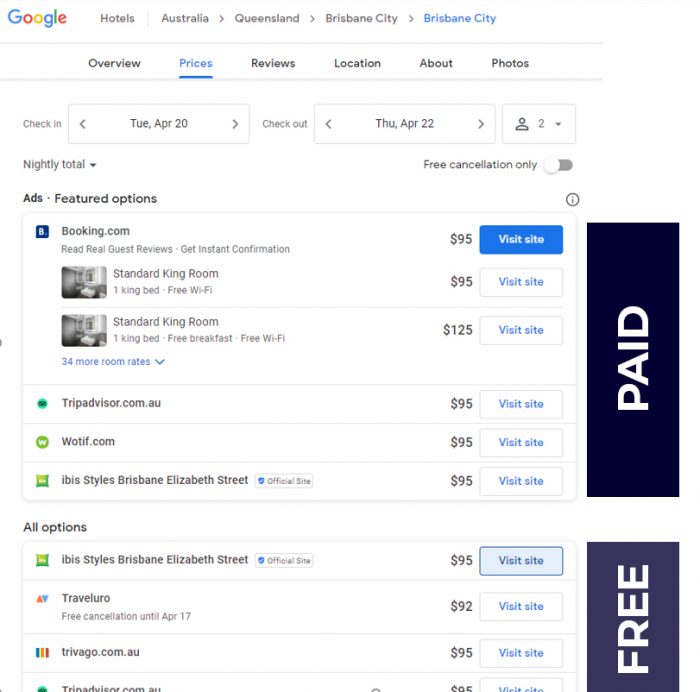 Paid listings
As per traditional Google search, Google Hotels works according to a bidding model, with hotels selecting their strategy and deciding how much they are willing to pay for hotel information to be displayed to users who have carried out a relevant search.
Cost-per-click (CPC) is where the hotel pays for each click generated by their advertisement. The CPC model includes options for a fixed amount to be paid per click, or for a more flexible approach, where bids are automatically adjusted based on the likelihood of attracting a booking.
Free hotel listings
Just like it did with Google Shopping and Google Flights, Google announced in March 2020 that it is now opening up free listings within Google Hotel search.
The new section in the Google Hotels search function is the "all options" section below the paid results, which shows unpaid listings from hotels and travel companies.
"We're improving this experience by making it free for hotels and travel companies around the world to appear in hotel booking links, beginning this week on google.com/travel. With full access to a wider range of hotel prices, users will have a more comprehensive set of options as they research their trip and ultimately decide where to book," Google said.
Hotels pay no fee for free booking links, and Google doesn't collect any payment for placement or user engagement with these links.
Google Travel options will expand to offer more free listing opportunities. "Over time, we'll continue building this open platform, so that all partners will have even more opportunities to highlight their information and help people book a flight, find a place to stay, or explore a new destination," Google said.
Ranking hotel listings
So, how do you get your listing higher up in Google's results, above the competitors?
Google said that its free hotel booking links "use a variety of signals to determine which links are best to show users." The signals include:
Consumer preference
Value offered to the user
Landing page experience
Historical accuracy of the prices provided to Google
Google clarifies that "Google's commercial relationship with the free booking link provider has no effect on ranking, nor can anyone pay for a higher ranking. Participation, or non-participation, in Hotel Ads does not impact ranking of free booking links either."
Google uses a privacy accuracy policy to determine the historical accuracy of the prices provided to Google. Google computes a score for each partner based on how often prices are compliant with this policy. This Price Accuracy score is meant both to inform partners about whether their prices are considered accurate, and as a basis for potential penalties Google may apply to partners. Your Predicted and Overall Price Accuracy Score can range from Failed to Excellent.
Here is the scale Google uses for this:

You can learn more about the price accuracy policy and how it works here.
Hyper-charge your Google Hotels listing
Working with a total of 43 different channels including Google search, Google Maps, Google Home and Google Assistant, HyperZone® for hotels can hyper-charge your Google Hotels listing. See how it works here.
Back to All News & Tips